Updates to iPhone service
We just released some updates to the iPhone service. First, we added some new types: regions, clicks, and referring domains. Second, we removed some excess padding and margins so there is more room for the data. Last, we now properly support landscape mode, so the strings aren't as truncated. Changing between portrait and landscape mode on the fly works really well. I prefer browsing in portrait mode normally, but for some things, being able to change to landscape mode for just that page to see more data is super great. Hope you like it, this has been the biggest request we've had.
Up next for Clicky is campaigns and goals, which are coming along real well. They should be available by the end of next week!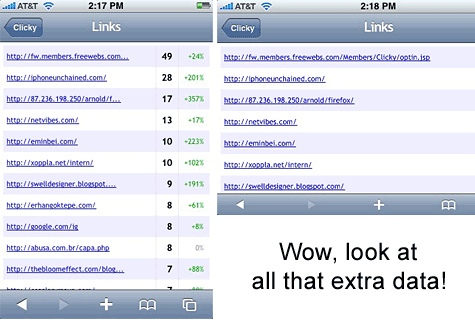 2 comments
| Sep 25 2008 2:15pm