New logo
Many thanks to friendly local graphic designer,
Raul Villalobos
.

27 comments
| Jul 27 2008 1:19pm
Privacy updates
Our public demo of the Clicky product has always been of our own traffic data. Some people understandably have had a problem with this, because they don't want their usage of our web site to be publicly available. (Please note this was always in our terms and conditions page, we weren't hiding this fact from anyone). The problem we've had was that our own traffic made such a great demo, because we get a lot of visitors and all the features of the product are used on our site.
But we still agree this needed to change. As of today, all traffic data to getclicky.com is no longer publicly available, including via the API (we changed the sitekey). The public demo is now of our blog traffic, which is pretty small but we don't run any other sites that get a lot of traffic.
There's also the fact that a few of our major competitors just can't seem to stop looking at our web site and its traffic data (yes, we know who you are; Clicky is watching you).
An extra note to people using our API for their own product, many of you have been using our demo site ID/key as the default values, which we agree is a great idea so your widget works even before the user has configured it. Please update your code to use the new demo site ID and key (32020 and 2e05fe2778b6, respectively). If we change the demo in the future, we will always keep our blog traffic publicly available, so this type of change shouldn't be needed ever again.

3 comments
| Jul 27 2008 1:11pm
Clicky API version 3 released
From the beginning,
the stats API
has been powerful and always allowed you to extract every piece of data available via our web site into several common formats for a variety of applications. However, if you wanted to "recreate" Clicky within your own desktop appllcation (and we know there are at least 3 of you working on something like that right now), you had to make a seperate request for each type of data you wanted.
This is bad for us because it creates significantly more load on our servers, and bad for you because it makes your application slower. Version 3 of the API fixes this, and allows you get multiple (unlimited) data types with a single request, by seperating them with commas. Here is an example request that you could use to build a simple dashboard for "today", with a single request. This would have taken 5 requests with the old API:
http://api.getclicky.com/stats/api3?site_id=32020&sitekey=2e05fe2778b6&type=visitors,actions,actions-average,time-average,bounce-rate
Another item that needed fixing was that if you requested a date range, the results returned would always be the total/sum from that entire date range. The only way to get "daily" values was to make seperate requests for each date - again, bad for us, and bad for you. Version 3 has a new parameter called "daily" that, if set, will return the results on a per-day basis, instead of the sum.
Here is the same request as above, with "daily" vallues, for the entire month of June. With version 2 of the API, this would have required 150 different requests. Now we can get it with one:
http://api.getclicky.com/stats/api3?site_id=32020&sitekey=2e05fe2778b6&type=visitors,actions,actions-average,time-average,bounce-rate&date=2008-06&daily=1
The last major new feature is support for callbacks and variable assignments for JSON output. This lets you skirt around annoying JavaScript "security" issues when it comes to cross-domain stuff. Please see
the docs
for full details and examples.
All of these changes required changing the structure of the results, too. Instead of just a bunch of items, the items now have a date wrapper for each date, and each date has a type wrapper for each type. Those of you familiar with the API already should be able to spot the new formatting in the screenshot below. This new formatting is used even if you only request one type on one specific date, so that your code can work the same for every possible request you could make.

The
API documentation
has been updated with everything that's new (there are a few other minor things). It also includes a bunch of new sample requests that showcase the new features. The new URL for the API is api3 instead of api2, but api2 continues to work indefinitely, of course.
Ok, that's it!

16 comments
| Jul 21 2008 5:01pm
100 free premium accounts, 50% affiliate commissions
Sorry everyone, our original "July Insanity" post was just too complicated and confusing, so we're making it much simpler. We want you to help us promote Clicky, and in exchange, we're giving away 100 free 1 year premium accounts, and also 50% affiliate commissions for the entire month of July.
50% affiliate commissions
Anyone who
creates an account in the month of July
through your affiliate link, if they ever sign up for paid service you will receive a 50% commission on their first payment, no matter when that actually happens (tomorrow, or next year). This is up to a $50 commission per person! There are no requirements here, just promote Clicky however you want and give out
your affiliate link
.
100 free premium accounts
The first 100 people who post a full review of Clicky on their blog or web site in the month of July will win a free 1 year premium account. The review must meet the requirements below, and don't forget to include your affiliate link in it as well. If you're willing to do a 3+ minute video review (instead of a written review), we'll throw in an extra $25 cash to the first 10 that do this (we just really want to see a few of these).
If your site gets
at least 100 daily visitors
on average, you will get a free 1 year Pro account, worth $60. Otherwise, you will get a free 1 year Blogger account, worth $24. Features of the different accounts are listed
here
.
Review requirements:
300 or more words

1 or more screenshots

The review must be new and original

The review must be displayed on your front page

To win a Pro account, you must have Clicky tracking on the site, so we can verify traffic levels.

Email a LINK to your review to Sean, with "Clicky Review" in the subject.

17 comments
| Jul 04 2008 9:57am
Browser and OS versioning is here
Clicky will now break down the various families of web browsers and OS' into seperate versions. We've added support for a number of new platforms, including mobile and video game consoles. On the dedicated browser/OS pages, everything is grouped together as shown below. On the dashboard, there is no grouping, items are only sorted by popularity. I think there will probably be a preference to change this for both areas of the stats, but for now it works well.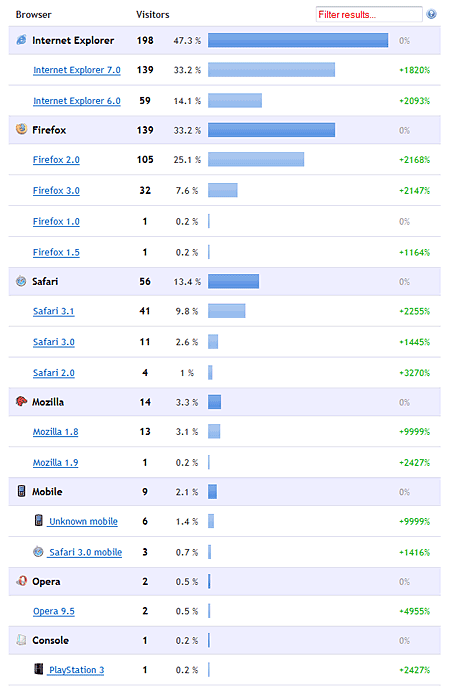 This has been in high demand so we hope you like it. :)

12 comments
| Jul 01 2008 11:20pm