Segmentation / filtering
One of the best thing about Clicky is how easy it is to segment (filter) your visitors. You're not presented with an ugly form with thirty options. Instead, every report is a gateway to segmentation. You can just browse your reports as you would otherwise, and when you want to see a specific group of visitors, just click an item in that report. We'll then show you a summary box at the top about the visitors who match the filter, and then the full list of visitors below that.
The standard maximum date range for any report is one year, and the same applies here, with
exceptions for higher traffic sites
:
For sites with >10,000 daily page views, the maximum date range for filtering is 1 month.

For sites between 1,000 and 10,000 daily page views, the maximum date range is 3 months.

All other sites below 1,000 (which is most of them!) can view up to 12 months when filtering.
If the date range you've selected is too large, it will shrink automatically to the max allowed, and a message about the modified date range will be displayed at the top of the report.
Example report. Click on any of the items to invoke segmentation.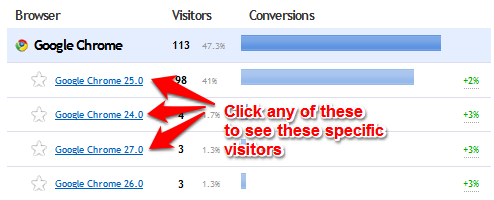 When a filter is active, you are shown some basic summary data about the matching visitors, with the individual visitors shown below that, as shown in the screenshot below.
"Summary" numbers are based on sampled data
when the number of matching visitors is greater than 1,000. We use your
Segments
preference to determine the sample rate (default 25%) for visitors beyond the first 1,000, up to a maximum of 5,000 visitors.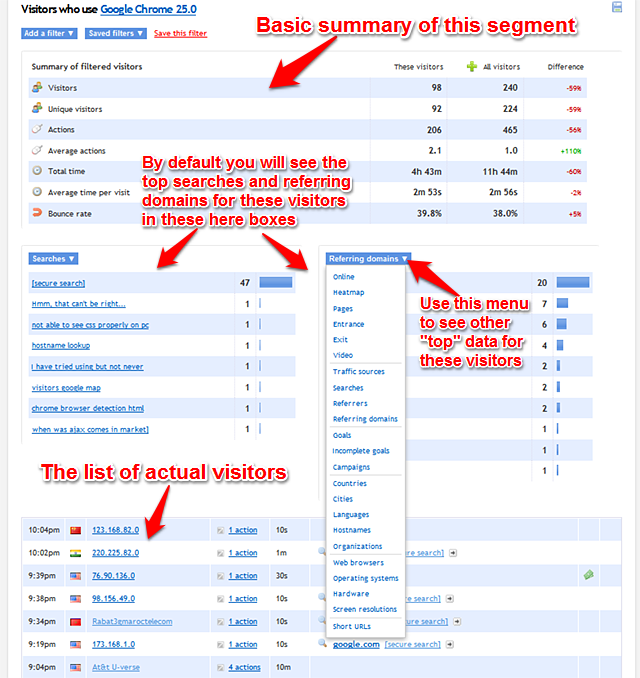 One additional thing we want to highlight is invoking further segmentation with the "Add a filter" menu at the very top. Say you wanted to filter down to people using Chrome 25 who
also
live in the US. Click the menu and select "Country"...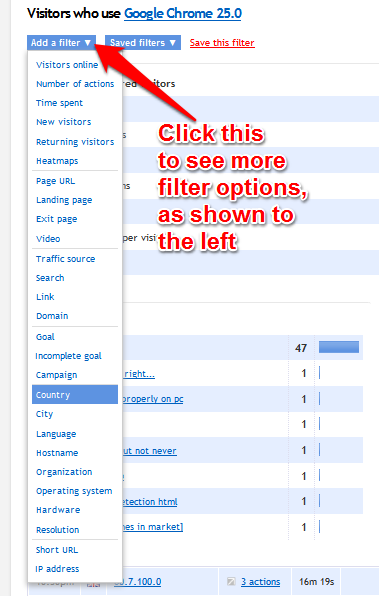 Your top countries will appear in the menu. Click "The United States"...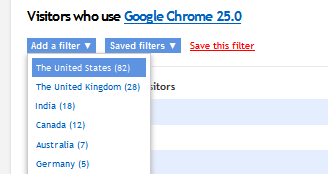 Everything on this page now represents visitors who match
both
of these filters!