Ignore visitors based on IP address or Unique ID
To create new
IP address
or
Unique ID (UID)
filters, go to your site preferences, then Visitor tags & filters sub-tab.
From here you can click the "IP / UID" link to manage existing filters and create new ones.
Note: IPv6 addresses are not supported here, as they change every 24 hours on most devices. Click the link above to learn more.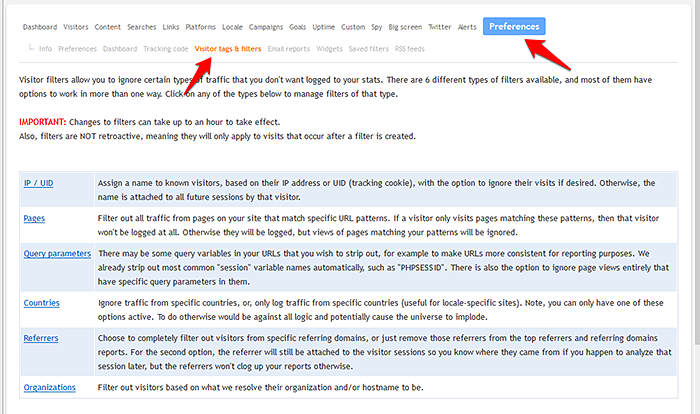 You can also create a filter directly from a visitor detail page. Just click the "tag" link next to their IP address or UID. If you have
visitor privacy
disabled, we recommend tagging UIDs, as the tags will generally still work even if the IP address changes.

This is the form you will see when creating a filter. Give the visitor a meaningful name, e.g. "Cousin Billy", and check the "Do not log visits" box. Note, this is not retroactive, meaning it will not remove this person's previous visits from your stats. It will only apply to future visits.